Zinc is chic, hip and trendy but is it worth the price?
Easily incorporated into any design, either as an accent or as the main feature of the home, it is a wonderful option for both interior and exterior façades, and can be used not only as wall paneling, but also as a roofing solution and for countertops.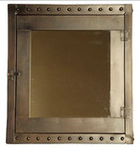 Zinc is easily incorpoated into any design, either as an accent or as a main element, and can be used not only as refacing material and wall paneling, but also for countertops, and rooftops.

With the recent growing trend toward 'green' design and incorporation into everything from paper to building materials, the tendency towards "green" washing (labeling a product green that is not) has become very popular. Advertisers seeking to cash-in on this growing trend still find ways to deceive consumers in ways that are legal, or technically illegal but unenforceable. Image – Zinc cabinets. BoBo-Intriguing-Objects
|Zinc is one of the few natural materials out there that has 'green' characteristics. Zinc is a green, eco-friendly material 100% recyclable. With its long and storied history as a building material (zinc was found in the ruins of Pompeii) that allows it to substantiate its claims of longevity and sustainability, it dominates its competition in the a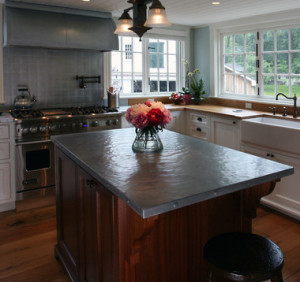 reas of roofing and cladding. The amount of energy used to produce zinc from ore is the lowest of all non-ferrous metals, about ½ the energy used for cooper and stainless steel and ¼ the energy used for aluminum. Energy consumption is even lower when zinc is produced from recycled material. When a zinc installation reaches the end of its service life, the material is 100% recyclable, without degradation or loss of properties. Zinc has a long life span, meaning that it seldom needs replacement. Image: Farmhouse Kitchen by Duxbury Design-Build Firms ARCHIA HOMES
Z I N C   M E T A L    S H E E T S  –  E L I T E   C A B I N E T   R E F A C I N G   S U P P L I E S  –  R O T O M E T A L S    Z I N C   S H E E T S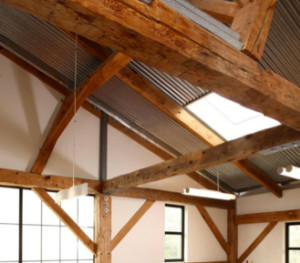 Zinc roofs have been known to last hundreds of years, if installed properly.

According to an article by J. Zaso
,
originally published in the April 2009 issue of Architectural Record… "

correct installation of a zinc roofing system is essential for protecting the metal against corrosion. The causes of zinc corrosion are standing water on the surface due to a lack of slope or water from condensation adhering to the back of the panel.

The newest protection against corrosion is a special backside polymer coating, between 30 microns and 60 microns thick, that protects the zinc metal from coming into contact with moisture from condensation. 'Skip sheathing' is the oldest method and involves placing pine boards, spaced apart, beneath the zinc roofing. When condensation on the back side of the metal drips off, it will drip behind the pine boards where it can dry from air flow behind it. This approach is still followed in Europe in some places and contributes to the longevity of some European buildings".

With approximately 85% of the rooftops in Paris being zinc, the rooftops of Paris stand today as a lasting tribute to zinc's versatility and longevity.
Image: Farmhouse Kitchen by
Carmel Architects & Designers
Studio Carver
Z I N C   M E T A L    S H E E T S  –  E L I T E   C A B I N E T   R E F A C I N G   S U P P L I E S  –  R O T O M E T A L S    Z I N C   S H E E T S
Zinc metal sheets are made by combining zinc with alloying elements (e.g. copper, titanium and aluminum), and it is formed into zinc sheet using a continuous casting/ rolling process. Zinc sheets are used in architecture for roofs and facades or for counters, bar tops, back splashes, kitchen cooking areas, stove enclosures, heat protection, sink tops and cabinetry. Zinc can be cut and formed to desired shapes using ordinary shop sheers, cutters, or benders.
Soft Zinc Metal Properties
Soft Zinc works wonderfully for cabinetry, counter tops, bar tops, back splashes, kitchen cooking areas and other applications.
Soft  zinc metal sheets provide the flexibility and malleability you need for faster installation. Some fabricators and the DIYs find soft Zinc much easier to work with and most people won't even notice the difference. It is almost as soft as lead, but still completely food safe! Soft zinc metal sheet is an environmentally friendly product, with no toxic runoff. Image RotoMetals zinc sheets
Soft Zinc Metal Properties:

• Soft and malleable
• Easy to fold and soft to solder
• Easy to handle, no gloves needed.
• Light weight • 100% recyclable
With no coatings to deteriorate require very little maintenance and will last you and your family for years to come.

|
Z I N C   M E T A L    S H E E T S  –  E L I T E   C A B I N E T   R E F A C I N G   S U P P L I E S  –  R O T O M E T A L S    Z I N C   S H E E T S
|

 Properties of Zinc Metal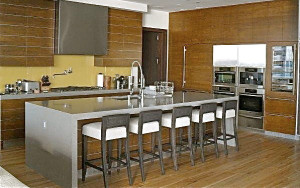 Zinc is very versatile, it's an industrial-looking material but it's also old-fashioned and elegant. Zinc reacts with water, lemon juice, and other substances that land on a kitchen counter… even fingertips. Over time, the marks blend together and leave the countertop with a pewter-like beautiful patina. Most zinc sold in the US is pre-weathered, which means it is run through an acidic bath to initiate a uniform patina that will further develop over time. Since zinc has a naturally forming self-protecting patina, it requires minimal to no maintenance. Zinc typically starts out pale gray and develops a slight dark blue-gray cast as it darkens with time and use. This process can be slowed somewhat with a coat of beeswax now and then. Image: Zinc-top island and countertops. Kitchen cabinets refaced in leather. Modern Kitchen by Fort Lauderdale Interior Designers & Decorators Chelsea Design Inc image
Countertops, table tops & bars have been made with
zinc metal sheet in Europe for decades.
Zinc has an inherent warmth that most metals lack, it looks seasoned even when it's new. It adapts, chameleon-like, to any kitchen or bathroom style or setup, and it works well in any area, from kitchen islands and breakfast bars to prep surfaces and vanities. For a clean, minimalistic look (in kitchens and bathrooms), a
single-piece zinc countertop with a fully welded integral zinc sink and splash can be created.
Image: My own kitchen countertop.
Z I N C   M E T A L    S H E E T S  –  E L I T E   C A B I N E T   R E F A C I N G   S U P P L I E S  –  R O T O M E T A L S    Z I N C   S H E E T S
|
Properties of Zinc Metal
|
Pros…
Its natural patina protects zinc and naturally reforms when accidentally scratched.

Zinc is naturally non-porous. Spills and splatters won't stain it in the way they might with a porous material such as marble or limestone. .

Ease of maintenance. You can easily clean it with a gentle dish soap and water.

It has antimicrobial properties. Zinc naturally resists mold, mildew and bacteria, making it a great surface for prepping food.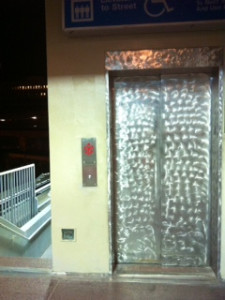 Zinc elevator – Hammered  zinc metal sheets – Standing up to Miami's humidity – Metromover station, Miami
According to industry sources, zinc is a non-corrosive, environmentally friendly product with a 100% clear water runoff.
Zinc is malleable. Because of its softness, zinc can be worked with hand tools. Zinc is easy to work with and it can be formed into curves and unusual shapes more easily than other metals. You can have the edges molded into interesting edge treatments and shapes. It can also be hammered (left) and textured to add interest and visual depth (see both images).
Zinc sheet  – A

single-piece counter top, with a fully welded integral zinc sink and splash,

can be created.

Some zinc sheets are "seconds", meaning, they already have stains and discolorations. Y

ou can save 10% to 20% on your counter top by opting for seconds.

Because of its lightweight, 

zinc metal sheet shipping costs are much less than with marble or granite.

  Image: zinc metal sheets
Z I N C   M E T A L    S H E E T S  –  E L I T E   C A B I N E T   R E F A C I N G   S U P P L I E S  –  R O T O M E T A L S    Z I N C   S H E E T S
|
Properties of Zinc Metal
|
Cons…
Zinc is a soft material. Protect your 

zinc metal sheet countertop. Be sure to

have cutting boards handy because it scratches easily if you cut directly on it.

Zinc is also bound to disappoint if you try to keep a shiny new look. Zinc doesn't keep its original condition because it's a "living metal" that changes color over time in reaction to its surroundings. Zinc develops a natural patina, that some home owners really like. It will go from a shiny mill finish to a beautiful 'uniform' gray… but that can take a year or more – a long time if you cringe at seeing a spot. In that case you'd be better off with stainless steel, since it stays shiny with no special effort.


The good news is that

RotoMetals Zinc Sheets

can be sealed, using

lacquer sealers, to maintain and protect your zinc metal sheet

for years to come, if that's your choice.

Zinc can warp from prolonged exposure to a hot object, such as a pan straight from the stove.

Zinc can be difficult for the average homeowner to install. As with other metal countertops technical skill and experience are required to prevent seams from showing and ensure a smooth surface. We

can refer you to an experienced contractor

who has worked with zinc roofing

Call Now: 888-981-4492 and

zinc metal sheet installation.

Although, doing it yourself

it's doable, and

virtually guarantees a more 'rustic' look. Check out this tutorial – zinc metal sheets

Be sure to get several bids before committing to a zinc countertop. Try getting bids from

zinc metal sheet fabricators, not just companies that specialize in installing countertops We stongly recommend

RotoMetals
Z I N C   M E T A L    S H E E T S  –  E L I T E   C A B I N E T   R E F A C I N G   S U P P L I E S  –  R O T O M E T A L S    Z I N C   S H E E T S
Zinc Metal Sheet – S
ustainability, durability and aesthetics
Zinc Metal Sheets are available in ready-to-use smooth sheets and pleated cuts
RotoMetals Zinc Metal Sheets for Cabinetry, Counter Tops, Bar tops, Back Splashes, Stove enclosures, Sink tops…  in various sizes and finishes to fit all of your needs. As seen in Pottery Barn, Restoration Hardware, and Williams-Sonoma and made popular by Oprah, Better Homes and Gardens, Elle Decor Magazine, I Hate My Kitchen, HGTV, DIY Network, and Kitchen and Bath Ideas
Z I N C   M E T A L    S H E E T S  –  E L I T E   C A B I N E T   R E F A C I N G   S U P P L I E S  –  R O T O M E T A L S    Z I N C   S H E E T S
|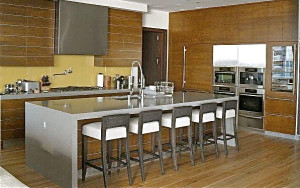 It is possible to achieve a great looking finished product made out of  zinc metal sheets with very little work!RotoMetals has put together these videos to help give a basic idea on how to fabricate their zinc metal sheets into a countertop or table, using very basic tools to accomplish the installation.
RotoMetals 

is

the largest "Made in America"

zinc metal sheet manufacturer. They will beat anyone's price! 

if you would like a zinc sheet longer than 12 feet, as these sheets, it is possible but requires special order.

Would you like your

zinc metal sheets to look like it has been weathered for a long time or to create your own distinctive patina on your zinc sheet?

Try

RotoMetals

' cupric sulfate, a wonderful product used to artificially patina zinc products.
Check out helpful videos to assist with creating your own patina, sheet installation and more…Click on Link and Go to Home > Zinc Sheets > Zinc Sheet Install Videos and Patina
Free zinc metal sheet samples
If you want 3 small, free pieces of zinc, you can add this to your cart and check out at no cost

Click Here

and search 4Free Samples
Z I N C   M E T A L    S H E E T S  –  E L I T E   C A B I N E T   R E F A C I N G   S U P P L I E S 

R O T O M E T A L S    Z I N C   S H E E T S
Zinc metal sheets – Sample Pack w/ Free USPS Priority Mail  –  Search 4 Samples
 

Price:

$9.99

Our zinc sheets can be sealed using our lacquer sealers to maintain and protect your zinc sheet for years to come.

We offer custom length zinc sheets to fit any size project.

Unlike zincs galvanized counterpart, our zinc sheet is 99+% pure thus allowing a non-toxic, food safe surface the is safe for you and your family.

'If you do not want to install the zinc sheets yourself, we have a list of local companies that have worked with and installed it before'  – RotoMetals

This is a sample pack of all of our thicknesses of zinc sheets and the pre-weathered patina 7. This is a great way to feel the differences in thickness if you are undecided or it you want to practice bending or soldering. This includes free USPS Priority Mail, and should take 1-3 days to get anywhere in the country.
Z I N C   M E T A L    S H E E T S  –  E L I T E   C A B I N E T   R E F A C I N G   S U P P L I E S  –  R O T O M E T A L S    Z I N C   S H E E T S