Kitchen Cabinet Refacing – A Timeless Dream Kitchen in 2015
 Genuine leather Paneling
Q: What is Kitchen Cabinet Refacing?
Kitchen Cabinet Refacing is the process of giving old, outdated kitchen cabinets a 'face lift', at a fraction of the cost of a complete remodeling.
Q: How would I know if my kitchen is worth refacing?
|
If your cabinets are structurally sound and you are happy with the general layout of your kitchen, then you should definitely consider Kitchen Cabinet Refacing. Older boxes tend to be stronger, sturdier and of far higher quality than what most homeowners will manage to afford in brand new kitchen cabinetry, and thus are great candidates for refacing. If damage seems limited to worn surfaces and you like the current layout, Kitchen Cabinet Refacing is definitely for you.
|
Q: What's Involved in Kitchen Cabinet Refacing?
|
The Kitchen Cabinet Refacing process involves the installation of new doors, and new drawer Fronts. All of the existing cabinetry including sides, bottoms, fascia, and toe plates are resurfaced with ¼-Inch genuine leather Paneling, in the color of your choice. New hardware is the icing on the cake.
|
If you have some experience with home improvement projects, do-it-yourself – DIY – kitchen cabinet refacing is particularly cost-effective if no reconfiguration of cabinetry is required.
|
Q: How Much does Kitchen Cabinet Refacing Cost?
Once you factor in the cost of labor and material Cabinet Refacing runs from 30% to 40% of a complete remodeling. And without the extra expenses that come along with new cabinets, which can include delivery and installation fees, repairs to walls and floors and other charges such as plumbing and electrical work., and new countertops that can more than triple the price of new cabinets. You can still maintain your kitchen without having to tear everything out.
|
If you need to replace some of the existing cabinetry, It's likely that new cabinets will be a combination of solid wood, plywood, particle board, and MDF. Wood veneer doors, for example, will cost less than solid wood doors.
Kitchen Cabinet refacing Cost – Material 
|

EX FACTORY PRICE – CUSTOM-MADE, HAND-MADE SPACCATO GENUINE LEATHER PANELING (LEFT) – US $170.00 SQUARE METER ($10.77 SQUARE FEET). ANY LENGTH. ANY WIDTH. ANY COLOR. NO JOINTS (Left).
EX FACTORY PRICE FOR LEATHER TILES (TERRACOTTA CABINET –  BELOW)

  – US $140.00 SQUARE METER ($

10.77 SQUARE FEET).
EX-FACTORY PRICE FOR 4 mm SMOOTH LEATHER PANELING   (ABOVE) 1.20 MT X 50 CM (3.937 x 1.640 FEET) IS US $150.00 ANY COLOR FROM THE PANTONE CHART.  Please Note: Ex factory price refers to the price  of goods at the factory. This does not include shipping or taxes. Leather paneling is easily shipped in a roll.
Custom Cabinet Doors and Drawer Fronts:
Advantage Cabinet Doors – Order the right size, as well as the desired finish and wood species, for your new cabinet doors. 
Naked Kitchen Cabinet Doors – Order the right size of Unfinished (engineered wood) Cabinet Doors at bare bones pricing…
Slab
The Above Door
$9.95 – up to 18″ wide by 30″ high
$13.95 – over 18″ wide by 30″ high
Solid – Slab Panel – Drawer Front
$8.95– up to 24″ wide by 10″ high 
$12.95 – over 24″ wide by 10″ high
Add hidden hinges at $8.00 per door (Includes the hinges and routing the holes). Since they are a kitchen manufacturer, they have the capability to make any size door or drawer front. Your cabinet doors or drawer fronts will be made to order to the 1/8th of an inch… and that's important. If you need custom orders, you can call them at 1-866-384-9003 VISIT STORE
Plus Shipping & Handling
Q: Kitchen Cabinet refacing Cost – Labor
Most contractors charge $125 to $175 per "opening"for cabinet refacing projects (every door, drawer front and false front counts as an opening). Double doors count as two openings.
|
Q: How long will I be without a kitchen? How long does Kitchen Cabinet Refacing take?
|
Not long. Most jobs can be completed within 2-4 days (We require a lead time of 4 to 5 weeks to fabricate and prepare the leather panels). You do not even have to remove all of the items in your cabinets. Just remove all the items from your countertops and in your drawers. There is no stripping, and no sanding involved and you will have full access to your kitchen in the evenings.
|
——–
Installation of our leather panels is very similar to applying a self-adhesive covering (video above) . Spaccato leather panels need to be affixed to cabinets/ doors with Liquid Nails or Contact cement. Liquid Nails Home Projects Repair Adhesive (LN-201) is usually used for paneling, it allows you to adjust it after placing it, which can be a plus in cases of initial mounting mistake and it cleans up easily with water. Use a roller, not a scraper to get rid of air bubbles
Q: Some of my cabinets and most of my drawers are not in good shape.
If they aren't in good condition you may need to replace all, or some of the cabinet/ drawer boxes, and hardware if needed.
Q: What can I do if I want to change the kitchen layout or modify some things?
Contact:
EXPERT LOCAL CARPENTRY SERVICES –  877-649-1609
They offer simple changes and modifications that can be performed such as add new cabinets here or there, add an island, a pantry, a wine rack, a spice rack or a trash pullout. They can convert a regular cabinet to a drawer stack and solve your storage problems. Most every accessory that is available for new cabinetry is available for refacing.
|
Q: My cabinets are very dark… Can I go dark to light?
Absolutely. Since you are overlaying new material over the replaced cabinet doors and drawer fronts and the existing cabinet boxes, there are no real limitations. You can go dark to light, light to dark.
|
Q : What about colors? Do you have samples?
|
We recommend that you either choose from our Pantene Color Chart or send a sample to us. We will replicate it for you. Color is very subjective that's why The Pantone Color Chart works so well. It takes all the guesswork out of color identification. We use the Pantone Chart to deliver reliable, reproducible colors to our customers. Every computer monitor is different and every printer is different, so by standardizing the colors, manufacturers and customers in different locations can all refer to the Pantone system to make sure their colors match.
|
Q: How long have you been doing Kitchen Cabinet Refacing?
|
Cabinet Refacing is not a new trend. It has been around for many years. The manufacturer of these architectural leathers is one of the pioneers of this process in South America and has been doing this for over 30 years now.
Q: Is leather a good choice for Kitchen cabinet Refacing? 
|
Leather is a product that gradually develops a rich, natural patina, which is the true mark of quality leather. Leather paneling and tiles are made of bovine hides, carefully treated and cured to guarantee a high quality product while maintaining the extraordinary beauty and characteristics of genuine leather. |
Unlike faux leather/ vegan leather, real leather is resistant to fire. When something is resistant to fire it burns slower. That alone makes leather paneling a great material for kitchen cabinet refacing. Leather stands up to wear and tear. It's resilient, strong and durable. Since it's already sealed, leather paneling/ leather for cabinet refacing, is easy to clean with a damp cloth (mix 1 part water 1 part white vinegar). Use saddle soap as and when it is needed if there are some major stains.

RotoMetals
Click on image to visit site
Zinc Table Tops/ Counter/ Bar – FAQs

Extracted from the RotoMetals Zinc-Sheet Data-Pdf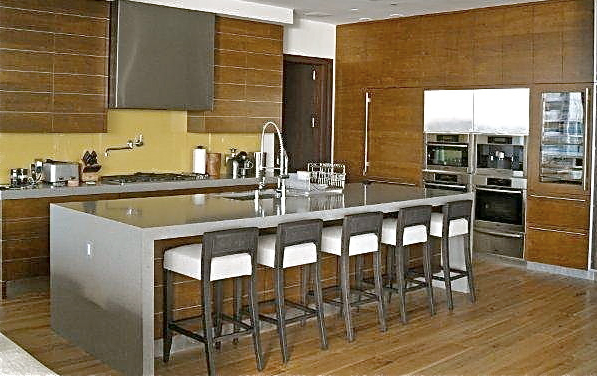 Q: What thickness should I use for my project?
This is the number one question we are asked! Though we recommend a minimum of .027", .020" will work fine for countertops and tables for display purposes or that will have very light use; there are pros and cons to both thinner and thicker sheets. For thinner sheets (.027" and .030") are definitely less expensive compared to thicker sheets and are easier to handle and fabricate for the do-it yourself installer. These sheets however, do not offer asmuch material for grinding out seams, soldering/welding and buffing of surface scratches and marks. Thicker sheets (.040" and .060") though more expensive, can be more difficult to fabricate and install and may require more "professional" experience to do so. As these sheets are thicker, they do offer more material for soldering and welding of stronger seams and provide more material for buffing of surface scratches/marks. For outdoor applications, we do recommend using a thicker sheet as these will hold up better to the natural elements, sunlight, heat, etc.
Q: What is better to use as a substrate, plywood or MDF?
Plywood would be the better option of the two as MDF can contain more glue and may have a higher risk on not being compatible with the zinc sheet. We recommend you use at least ." plywood for the substrate.
Q: 28" vs. 39.3" vs. 44.8" widths?
Good question! The depth of your countertop or size of your project and how much edge you decide on, will determine what width of zinc sheet your project will require. We recommend that you order a sheet slightly wider than you actually need as slight damage can occur in rolled UPS shipping to the edges. A wider sheet than you need will also allow you to have pieces left over to practice with patina and solder techniques before you apply it to your sheet.
Q: How do I get nice clean cuts with basic home owner tools?
Sheet metal shears and/or routers are all acceptable forms for cutting or trimming your zinc sheets and should render you a nice clean edge. For cutting thinner gauge material, tin snips will suffice though this method may cause your edges to be a little curly.
Q: What other materials will I need to build my countertop?
Electric or copper tipped soldering iron (for temps 1000 degrees or more)
Rubber mallet (for hammer forming)
Construction adhesive (polyurethane based i.e. Sikaflex 1a or 201)
Weights or vice grips to hold the sheet in place while glue dries.
0000 Steel Wool (for buffing)
Various grades of sand paper (220 grit or higher) for sanding solder joints and removing minor scratches/imperfections caused by installation.
Q: What do I use to protect/seal my new countertop?
Sealing is not required if you are seeking a natural patina on your zinc sheet. If you like the current finish of you zinc sheet we offer a Spray Lacquer sealer in a flat and satin finish. You can also use a more natural product such as bees wax or butchers wax and even furniture wax though these products will need to be applied routinely depending on use, wear and tear.
Q: Is Zinc "food safe"?
Yes, our zinc sheets are food safe. Zinc is a sustainable (GREEN) product that is found in many everyday things we use from art work to vitamins. It is also commonly seen in seafood and oyster houses presumably for its antimicrobial properties.
Q: Can I weld or solder joints and corners?
We leave that up to the installer/fabricator to decide based on their skill in working with zinc. Zinc sheets can be soldered and welded easier when using thicker sheets (.040" and .060") as there is more material to work. 95% of our zinc sheet owners have chosen to solder their zinc sheets instead of welding. Welding requires lots of practice, proper ventilation, temperature control and can produce very poisonous gases.
Q: What side of the sheet should I use?
Either side of your zinc sheet is fine to use. There may be slight mill patterns from side to side, so pick the side you like the best and use that.
Q: Does zinc patina on its own, or do I need to use something on it to make it patina?
Both. If left alone with no sealer, zinc will patina naturally. This process depends on exposure to fresh air and sunlight and can take up to 18 months or longer. Some people choose to patina their zinc sheet using chemicals like cupric sulfate, copper sulfate or other natural chemicals like vinegar to age the sheet to the desired look. If you weather your zinc sheet using these chemicals, we recommend sealing the sheet with one of our lacquer sealers or a wax as artificial patinas are initially less durable than natural patinas and can be easily damaged.
Q: Will pre-weathered zinc sheets continue to age?
If left unsealed and depending on use, pre weathered zinc sheets may darken slightly over time but typically do not. We do recommend that if you like the current finish of your pre weathered sheet that you seal it using one of our sealers to protect the finish.
Q: How long will it take my order to ship?
Our zinc sheets are stocked items and usually ship the same day or the following day. There are some exceptions
to custom length sheets and shipping methods.
Q: Freight shipping or Ground UPS shipping?
Another great question! The most cost effective way to ship zinc sheets is UPS Ground. The sheets are rolled inside a protective tube and placed into an outer box and shipped. Flat (Freight) shipping does cost a bit more but has its benefits. Unlike UPS shipping where minor edge damage can occur, freight shipping allows for more protection of the sheet and adds that your sheet will arrive flat, without edge damage unlike UPS shipping. Freight shipping usually takes the same amount of time as UPS does, but will require you to have access to a forklift or loading dock. A crate fee will apply for flat shipping. If you are only ordering a few sheets and still would like to have it shipped freight, we offer "rolled" freight shipping. This would entail a protective tube with your sheet inside and a smaller pallet thus eliminating the crate fee and ensuring your sheet will arrive free of damage.

RotoMetals
Click on image to visit site